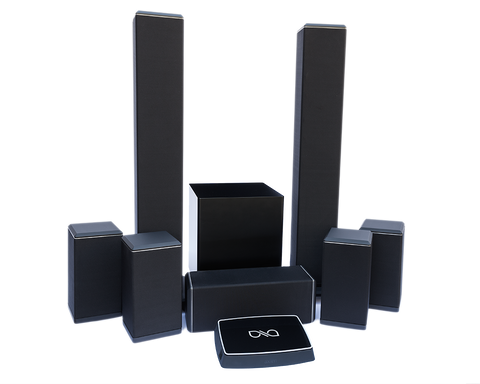 Q UHD + 7.1 WM Series Wireless Pro Bundle
7.1 Pro Bundle Contents

1 Q9100MC-UHD Q UHD Wireless Media Center

1 WM5211CS Center Speaker 

2 WM5311FS Tower Speaker 
4 WM5111SS Bookshelf Speaker
1 XM101SW 10" Subwoofer
30 day hassle free return policy and FREE shipping anywhere in the United States.
Q UHD + WM bundle
Axiim: the Future of Wireless Audio....Transform your living room into an unparalleled Cinema-quality experience with true Dolby TrueHD or DTS-HD Master Audio Surround Sound. Powered by the 2018 CES Award-winning Axiim Q 4K UltraHD, you will hear stunning sound with the clarity and power of the Axiim WM Series Wireless Speakers. Setup your Axiim Q UHD 5.1 Wireless Home Theater System in only a matter of minutes without the need to run speaker wire! Live the Future of Audio Now!
FEATURES
WiSA Compatible Wireless Audio Connection:

 Up to 7.1 surround sound with WiSA compliant wireless 24bit/96kHz audio.

Audio Format Support:

 

 Up to Dolby TrueHD, DTS-HD Master Audio.

Audio Control:

 10 band graphics equalizer, volume, and distance calibration per speaker.

UHD Video:

 

Up to 4K 60fps with HDR, 1080p 3D modes, and Dolby Vision

Inputs:

 Six HDMI inputs supporting HDMI 2.0, HDCP 2.2 and CEC.

Outputs:

 

HDMI output to TV supporting HDMI 2.0, HDCP 2.2, CEC and ARC

Remote:

 Bluetooth remote and IR port for users with universal remote control (i.e. Harmony).

Network:

 Gigabit Ethernet and 802.11ac WiFi.

Network Features:

 Firmware update and remote control via mobile apps.

Dimensions (HxWxD):

 1.8 x 11.3 x 8.1 in. (45 x 287 x 207 mm).

Weight:

 

2.54 lbs (1.15 kg).

Power Supply:

 100-240VAC, 50/60Hz, (Less than 13W worst case power consumption).

Mobile Apps:

 iOS and Android remote control apps

.

Warranty:

 One Year
WM SPEAKERS
The WM loudspeakers use the WiSA compliant 24bit/96kHz HD wireless audio connection to eliminate speaker wires. Each driver in the loudspeaker receives its own dedicated audio power amplifier tuned specifically to match the driver for the ultimate sonic performance. The loudspeakers have finished Soft Touch end cap(s) and an aluminum trim for an elegant presentation. The WM speakers use textiles complimented by visually pleasing aluminum embellishments and satin finishes.
MIDRANGE WOOFER
The WM series 5 inch midrange woofer uses an aluminum cast basket to provide an extremely rigid frame for the acoustic motor structure. The baskets are optimized to reduce resonance by allowing rear wave airflow to freely move through the support frame. A competitive advantage aluminum cast baskets have, unlike stamped sheet metal frames, is they do not steal magnetic Bl from the air gap of the coil. The higher Bl results in a more linear and accurate driver.
HIGH FREQUENCY DRIVER:
A single wide angle surround 1 inch silk-dome tweeter accompanies every loudspeaker in the family. The wide angle surround is used to improve off axis response from a more traditional tweeter. The tweeter design uses a lightweight copper clad aluminum wire (CCAW) voice coil to create a high sensitivity motor that reduces moving mass without limiting power handling capabilities. The CCAW allows the tweeter to blend seamlessly with the 5 inch driver(s) to match tonal quality and balance the system's frequency response. The chosen ferrite magnet has the ability to sink heat and improve cooling, enabling linear Bl field interaction between the magnet and coil motor structure.
SPECIFICATION
WM5211CS CENTER SPEAKER
Connectivity - WiSA certified 24bit/96KHz audio connection

Amplifier - 120W, tri-amp Class D power amplifiers with audio DSP

Midrange Woofer - Pair of 5 inch cast Aluminum basket driver

High Frequency Driver - Single 1 inch fabric dome wide surround tweeter

Frequency Response - 80Hz-22kHz

Enclosure Type - Sealed

Dimensions (WxDxH): 6.5 x 6.5 x 16.9 inch ( 165 x 165 x 429 mm)

Power Supply - 100-240VAC, 50/60Hz, 90W
WM5311FS TOWER SPEAKER
Connectivity - WiSA certified 24bit/96KHz audio connection

Amplifier - 120W, tri-amp Class D power amplifiers with audio DSP

Midrange Woofer - Three 5 inch cast Aluminum basket driver

High Frequency Driver - Single 1 inch fabric dome wide surround tweeter

Frequency Response - 80Hz-22kHz

Enclosure Type - Sealed

Dimensions (WxDxH): 6.5 x 6.5 x 39 inch ( 165 x 165 x 1092 mm)

Dimensions: 6.5 x 6.5 x 39 inch (WxDxH)

Power Supply - 100-240VAC, 50/60Hz, 120W
WM5111SS BOOKSHELF SPEAKER:
Connectivity - WiSA certified 24bit/96KHz audio connection

Amplifier - 60W, bi-amp Class D power amplifiers with audio DSP

Midrange Woofer - Single 5 inch cast Aluminum basket driver

High Frequency Driver - Single 1 inch fabric dome wide surround tweeter

Frequency Response - 80Hz-22kHz

Enclosure Type - Sealed

Dimensions (WxDxH): 6.5 x 6.5 x 11.8 inch ( 165 x 165 x 300 mm)

Power Supply - 100-240VAC, 50/60Hz, 60W
XM101SW SUBWOOFER
Connectivity - WiSA certified 24bit/96KHz audio connection

Amplifier - 300W, optimized Class D power amplifier with audio DSP

Woofer - Single high BL long excursion 10 inch driver

Frequency Response - 20Hz-80Hz

Enclosure Type - Sealed

Dimensions (HxWxD) - 15.9 x 12.5 x 12.5 in. (405 x 318 x 318 mm)

Power Supply - 100-240VAC, 50/60Hz, 300W